Carveco Release Notes
Here at Carveco, we take the Continuous Delivery approach to software development. This means that we aim to develop and release regular updates, enhancements, new features and bug fixes as soon as they're tested and ready – for every Carveco product.
All our work on each software update we release is outlined below.
Carveco v1.18 – October 20, 2020
New Features for Carveco Maker Plus
In our latest update, we've added a whole host of new design features to Carveco Maker Plus. Expanding the capabilities of our 3D modelling tools, we've now added Texture Relief, Relief Cookie Cutter, Spin and Turn tools; together with improvements to the interactive 3D sculpting tools with the addition of both the Deposit and Carve tools.
Enhancements
Added post-processors for the following controllers or machines:

Digital Wood Carver.

DrufelCNC.

Onefinity.

Onefinity (probe change).

Sainsmart 3018 MX3.

Sainsmart 3018 PRO.

Sainsmart 3018 PROver.

Implemented Add Flush options on the Tool Settings: Transform panel in Maker and Maker Plus, displayed when importing and pasting relief clipart.

Added the Toggle Clipart Visibility button to the 3D View toolbar in Maker and Maker Plus.
Fixes
Reinstated the Imported File dialog's Centre in model check box when importing a DXF file.
Ensured the correct text size is preserved when opening a PDF file including Type 3 fonts.
Increased the number of decimal places in the UGS GRBL post-processor's output to resolve a "code 33" error.
Ensured the correct icon for the most recently selected sculpting tool is displayed on the Relief Editing toolbar.
(Build: 2020-09-28-1034-ea87433f)
How do i download software updates?
From Carveco 1.16 onwards (all products) we added the ability for the software to notify users of any updates that become available. Please click the link from the start page of your software to download any new releases.
Previous versions are available to download via sendowl.com (our software delivery service provider) from your dedicated download portal. Please use the link within the email to access your personal download page. Any previous Carveco emails that contain a link to your personal SendOwl download page – for example a previous update notification – will automatically direct you to the latest version available.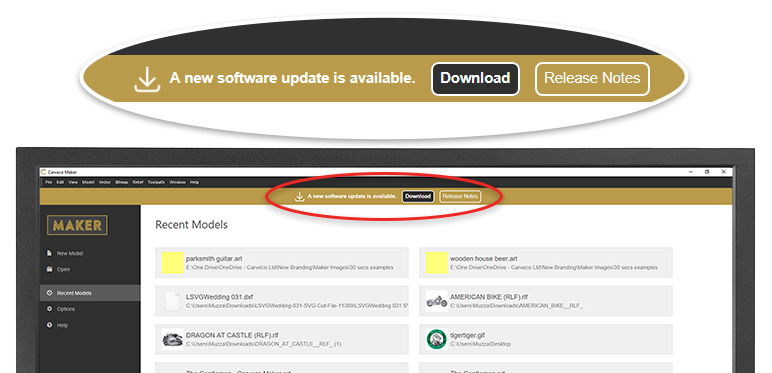 I've missed a few updates… Do I need to go back and install each one?
Don't worry – regardless of whether you're upgrading from a much older version, or the previous release, you only need to install the latest update to ensure your Carveco product is up to date. Additionally, your unique SendOwl download link (even from previous emails) will always show you the most recent Carveco update available.